Are scorpions deadly? What kills scorpions? Here's the ultimate guide to the habit and behaviors of common scorpions for Phoenix homeowners. Learn what to know if you're stung by a scorpion, how to prevent scorpions on your property, and how pest control in Phoenix can help you get rid of scorpions that are causing a problem around your home.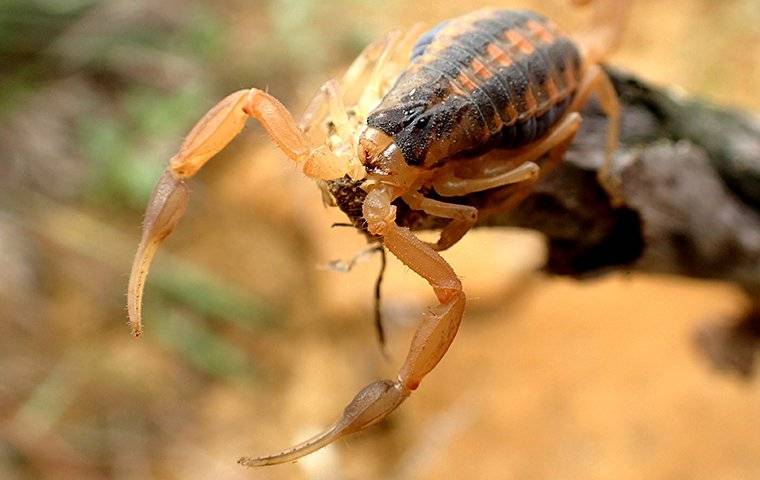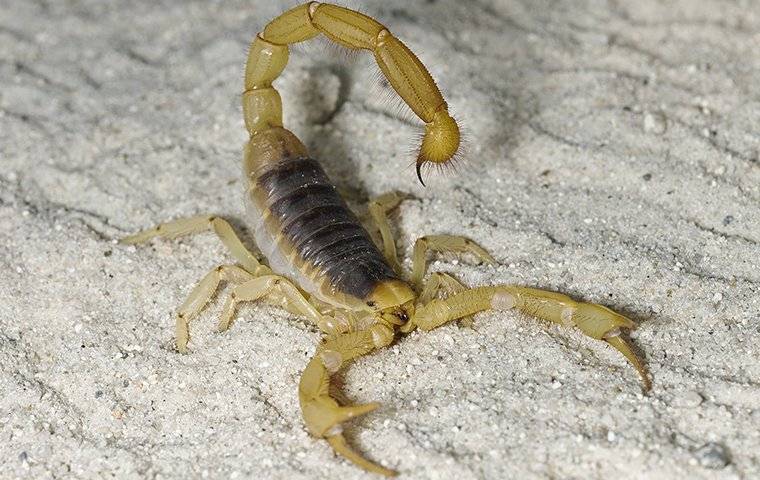 The Habits & Behaviors Of Common Scorpions
Are scorpions arachnids? Yes, they are. Scorpions are often easy to identify as arachnids because they've got a distinct appearance. With eight legs, coloring that can vary from tan to black, two pincers, and a large tail with an attached stinger at the end, most scorpions don't grow bigger than two inches.
A scorpion's diet usually consists of insects and small arthropods that they can find outside. Scorpions spend a lot of time outdoors, and it's not unusual to find them hiding in leaf piles, under rocks, or tree bark. If they venture inside, scorpions prefer to hide in dark, isolated places where they know they won't be disturbed. This can include basements, closets, piles of clothes, or even shoes.
Scorpions are most active at night, and although they do have stingers, they usually aren't aggressive. Most scorpion stings happen because you've accidentally stepped on them or gotten too close without knowing they were there. Fortunately, most scorpion stings aren't dangerous, but they can hurt.
Some other crucial facts about scorpions include:
Some scorpions can live up to ten years in the wild, and if they're in captivity, scorpions have been known to live more than twenty years.

Because they have low metabolic rates, scorpions can last close to a year without food.

Scorpions prefer to conserve their venom and, if possible, will try to kill prey with their pincers instead of using their stingers.

Phoenix is home to the Arizona bark scorpion, whose venom could potentially be fatal or medically dangerous if you're stung.
While most scorpions will not go out of their way to sting you, it's better to keep your distance and keep scorpions off of your property and out of your house.
What To Know If Stung By A Scorpion
Although scorpions aren't known to be aggressive, they can still sting you, especially if you accidentally step on or try to interact with one. If you are stung by a scorpion, here's what you should know:
You should identify the scorpion that has stung you. Specifically, it's important to know if you've been stung by the Arizona bark scorpion, which has the most potent venom in the country. These scorpions have tan coloring and darker backs.

If you have been stung by a bark scorpion, you should seek medical attention immediately.

If you haven't been stung by a bark scorpion, you can wash the site of the sting with warm water and soap. Don't be surprised if the sting is painful and starts to swell. You can use cool compresses to reduce swelling.

If you start to experience more severe symptoms of a sting, like a difficulty swallowing, numbness, blurred vision, or seizures, you should get medical attention as soon as possible.
While the majority of stings are painful but not dangerous, it is important to act quickly if you begin to have more severe reactions to a scorpion sting.
Five Naturally Effective Scorpion Prevention Tips For Your Property
Some of the natural ways to prevent scorpions in Phoenix include:
Keep outdoor garbage cans, indoor trash cans, and compost piles emptied regularly to reduce the presence of insects that scorpions hunt.

Get rid of yard debris, like leaf piles, brush piles, and woodpiles, which scorpions may try to hide under.

Regularly maintain your lawn and trim back any tree branches that are too close to your house to reduce entry points.

Address moisture issues around your property, like obstructed or flooded gutters that might attract scorpions.

Double-check any yard debris, rocks, or woodpiles for scorpions before moving them or bringing them inside.
Limiting food sources and hiding spots helps minimize your risk of scorpions and other pests.
The Secret To Total Scorpion Control For Phoenix Properties
The easiest, most effective way to get rid of a group of scorpions on your Phoenix property is by working with Overson Pest Control. Not only can encountering scorpions be painful, but depending on the scorpion, it could also be deadly. A professional pest control service provider like Overson Pest Control can completely remove scorpions on your property and help you address potential factors that may be drawing them in.
If you're spotting scorpions around your Phoenix property or even in your home, don't waste any time – contact us today at Overson Pest Control for more information about our scorpion control service or a free estimate of our services.