True

Pest Protection

for Your

Phoenix, AZ Home

Our homes are magnets for pests. Think about it, our homes provide pests with everything that they need to survive: food, water, and shelter. Why wouldn't they come inside? That's why diligent and active pest control is necessary to keep pests out of Chandler and Phoenix, AZ homes in the long-term. Partnering with your local pest control experts is the best way to prevent pest problems before they start. At Overson Pest Control, we offer effective and affordable pest control services for the greater Phoenix area to meet all your needs.

Dealing with pests that may not be covered by our general pest control plans? No problem! We offer additional pest-specific treatments for a variety of pests including bee control, rodent control, scorpion control, and termite control.
Would You Like Us To Call You Instead?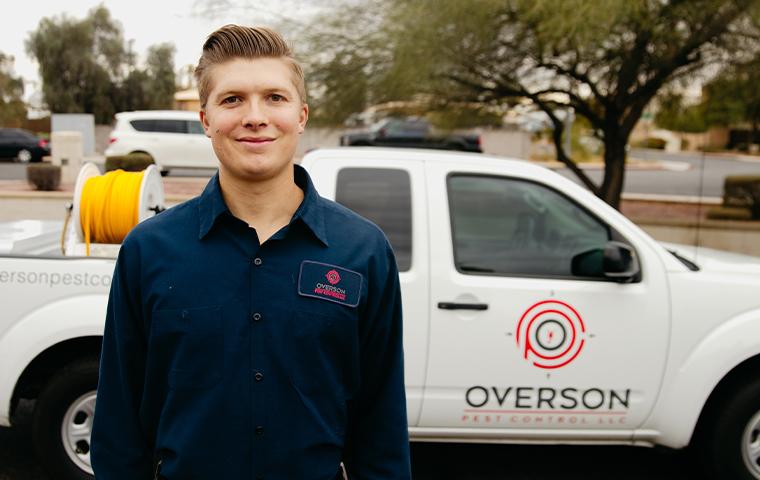 Why
Pest Control

Is The Right Choice For

Your Phoenix Home

People often only think about pest problems once they start noticing pests around their property. However, by the time you start seeing pests, it's probably too late to prevent a pest problem. That's why it's always better to be proactive when it comes to pest control rather than simply treating pest problems as they arise.

While there are certain things you can do to reduce the chances of a pest infestation like keeping up with cleaning and regular home maintenance, at-home methods often can't address the many factors that attract pests to your home, making them ineffective at solving the whole problem.

Whether you're talking about insects, rodents, spiders, or other common Phoenix area invaders, these pests can cause big problems for homeowners once they move inside.
Benefits Of Professional Pest Protection
Here are just a few of the potential threats that investing in professional pest control can save you from:
Damage
Pests of all types can cause damage to your property, from the stains caused by their droppings to the marks that result from their chewing and scratching. Proper pest control is cheaper than replacing household items or building materials ruined by a pest infestation.
Disease
The biggest concern when it comes to pests is the diseases they can spread. From cockroaches and mice to parasites like fleas and ticks, both us and our pets are put at risk of getting seriously sick from prolonged exposure to pests.
Allergies
Speaking of prolonged exposure, the presence of certain pests in a home can lead to worsened allergies and respiratory illnesses such as asthma caused by their excrement, shed skins, and more.
For Immediate Help, Text Us Today!
(480) 780-2436
Our

Home Pest Control Process

Actually Works!

People will try all kinds of products or homemade solutions to try and drive pests off their property. These methods are mostly ineffective. Even the ones that work are temporary and don't address the root of how and why pests are invading. In fact, these ineffective methods can actually make the problem worse and end up costing you more money in the long run. Instead of trying to deal with all those problems all on your own, avoid all the hassle and turn to the easy and effective pest control services from Overson Pest Control.

No matter what pests or attractants are present on your property, here's what you can expect when you call Overson Pest Control: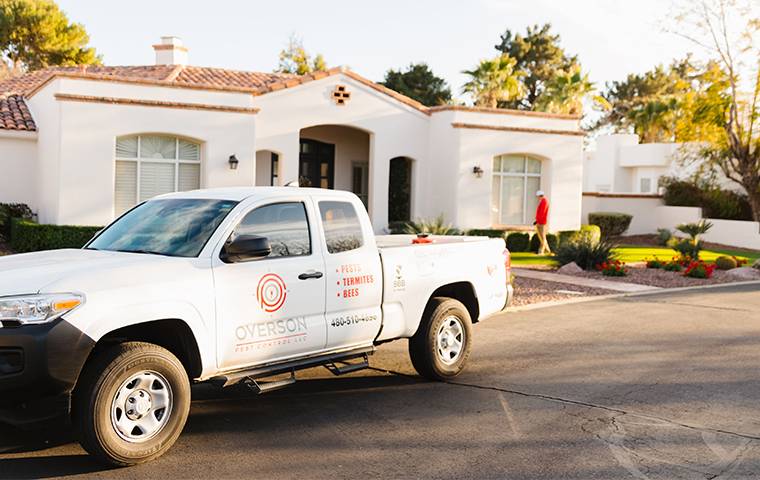 Guaranteed Solutions
for your Toughest

pest problems
Keep Your Phoenix Home

Free Of Pests
When it comes to your home, you want nothing but the best in terms of pest protection. At Overson Pest Control, that's what we offer: the best. We've successfully kept Phoenix area homes protected from pests for years, at prices you can afford and with services you can trust. Don't wait to get started on true pest control for your home; contact Overson Pest Control today.
Latest

Blogs

Stay informed about pests and pest related issues in your area!

View All Blogs