If you've found termites in your home and you're more than a little bit freaked out, the first step is to take a deep breath. Termites aren't going to damage your property overnight. It takes time. In some cases, it takes a lot of time. You have time to make the right decision for the health of your home.
Let's walk through the process of finding termites, what you should know about termites when you see them, how they may be damaging your home, and how Phoenix pest control addresses termite problems. If you want immediate assistance with a termite problem, you can hop over to our contact pages and we'll arrange to have an Overson Pest Control technician come take a look. With that said, let's get into today's topic.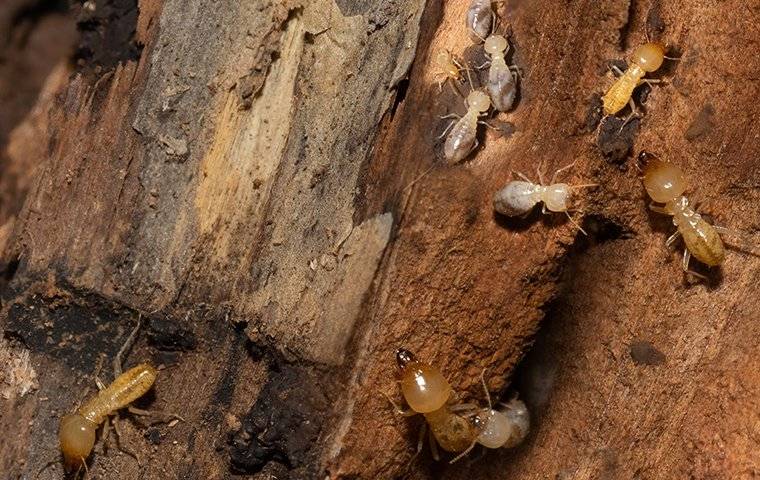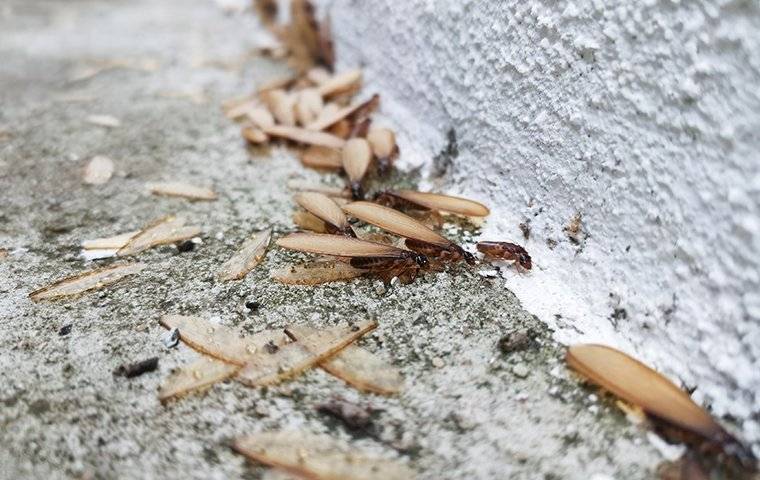 What Do Termites Look Like?
Termite identification is a good place to start with termite prevention. If you've found termites on your property, it is important to make sure that they are actually termites. If you haven't found termites, it is helpful to know what they look like so you can catch problems early. Termites vary slightly, depending on the species. Here are some general tips to help you with termite identification.
The type of termite you're most likely to see is a winged termite. While only ⅜ of an inch, and difficult to easily examine, winged termites are the only insects in Phoenix that have elongated teardrop-shaped wings. These wings are white, stack on the back of the termite, and are rounded at the tips. The body of the winged termite is a dark color and is mostly hidden under the wings.

Another type of termite you may see is a worker termite. Worker termites look like little, fat, pale-colored, or orange ants. A worker termite is about ⅛ of an inch, and even more difficult to examine than a winged termite.
If you need help with termite identification, you can send us a picture or have a technician from Overson Pest Control come to your home and perform an inspection. We'll help you figure out what pest you're dealing with.
If I See One, Does That Mean There Are More?
When you're standing in your yard and one, winged termite lands on your skin, does it mean there are more, or that you have a termite problem? No. One swarmer in your yard does not mean you have active termites in your home. But, it isn't a good sign. Winged termites are reproductives.
The job of the reproductives is to leave the nest and go forth to create new nests. Their entire focus is on finding a mate and creating a nest. They're not looking to take a long journey. So, in most cases, they don't. These winged insects only travel a short distance. This means the nest that sent them out is on a nearby property, or on your property.
How Do I Know If Termites Caused Damage?
The most destructive termites in Phoenix are subterranean termites. Most of the damage these termites do is on the inside of wood. But there are a few ways you can tell whether or not they're eating the wood of your home. Use these tips to help you with termite inspections:
Subterranean termites often create shelter tubes on foundation slabs and other hard surfaces. If you see a little, wiggly mud tube, there is a chance your property is being damaged. Break a piece off and check back in a couple of days. If the tube has been repaired, you have active termites in your home.

If you have wood-to-soil contact on your property, you can inspect the wood just below the surface of the ground.

If you have wood products on the ground in your yard, such as construction materials, scrap wood, campfire wood, mulch, stumps, logs, etc., you may find worker termites in the soil underneath.
When you find signs of termites in your yard, the next step is to consider what you should do about those insects. While termites will consume the wood of your home slowly, you shouldn't let them go untreated. Over time, they can do considerable damage, and the damage they do is often difficult to repair.
What Is The Best Way To Completely Get Rid Of Termites?
If you live in Phoenix, you're in our service area. Contact Overson Pest Control when you see signs of termites in your yard (or long before you see signs). We offer termite treatments to correct active infestations and proactive termite control services that prevent termites from damaging Phoenix properties. We also offer annual termite inspections if you want us to keep a professional eye on your property. Reach out to us any time and we'll guide you in finding the right termite control solution for your home.