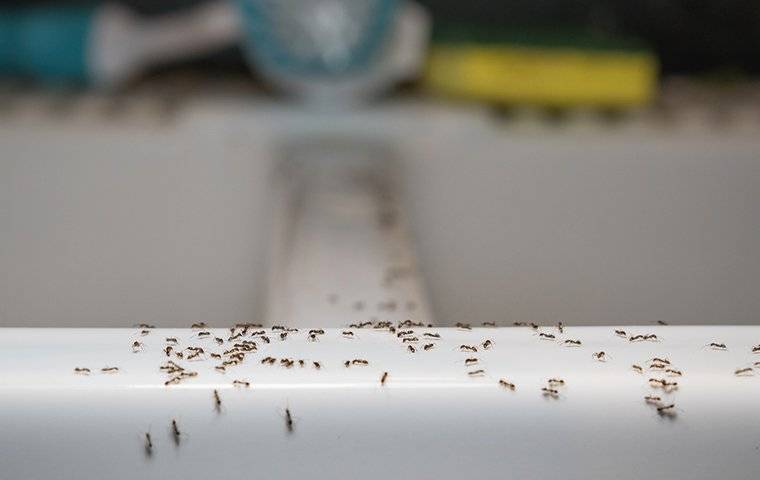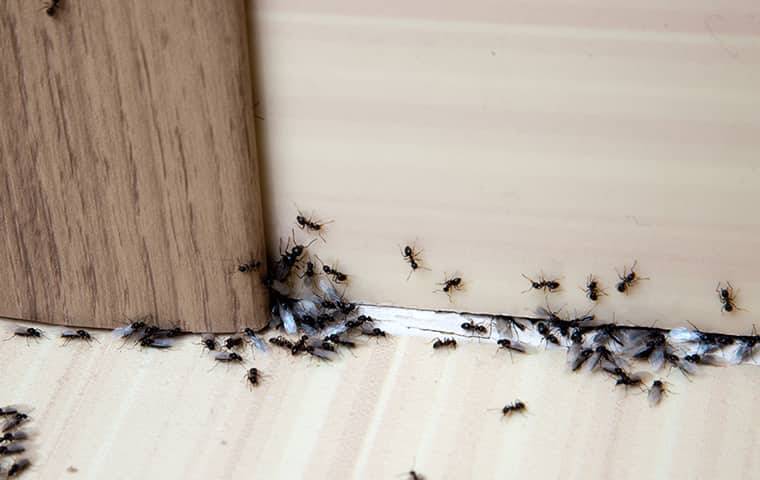 Harvester Ants: Usually black or red in color, harvester ants collect seeds as their primary food source and may sting you if they feel threatened or cornered.
Argentine Ants: Argentine ants usually crawl in lines up the sides of trees or buildings, and give off a musty odor when you crush them.
Odorous House Ants: House ants will be after the sweets in your home and like to build their nests near moisture sources. They'll smell like rotten coconuts when crushed.
Fire Ants: While they don't usually make it into the house, fire ants build mound nests on your property and won't hesitate to sting you if you get too close.
Pavement Ants: Pavement ants like to build their colonies in cracks of the pavement or cement, but they may come inside your home to forage for food.
Carpenter Ants: Carpenter ants chew through wood to create their nests, which can cause structural damage to your home.
While most of the ants you find in your home or around your property aren't anything more than a nuisance, that doesn't mean you want them there. Here's what you should know about what may be attracting ants to your home, how you can prevent them, and what to do if you've got an ant infestation in your Phoenix home.
What Attracts Ants To Your Phoenix Home And How Do They Get In?
While some ants may head inside because they're detecting body heat or the CO2 in your breath, ants are usually only looking for two things: food and water. They're scavengers, and while most ants won't be extremely picky about what they eat, they do prefer sugary substances – so leaving baked goods, fruit, or even sugary drinks is a surefire way to attract ants.
Sources of moisture can also draw ants in, and odorous house ants will usually try to build the bulk of their colonies where moisture is nearby.
When it comes to getting inside your home, ants don't need a lot of space to crawl through. Even with closed doors and windows, ants may still crawl through gaps underneath your doorways, tears in the window screens, or little cracks and crevices in the foundation.
How To Prevent Ants In Your Phoenix Home
Because they're so tiny, preventing ants isn't always easy – but there are a couple of things you can do to make your home and property look less attractive to ants, including:
Make sure you don't leave food out and seal leftovers in airtight containers.

Don't leave pet food lying around your home.

Regularly wipe down your counters and kitchen tables where food scraps and crumbs may have been left behind.

Don't leave dirty dishes lying in the sink too long, especially if you've made something sugary or sweet.

Seal your trash cans tightly.

Don't let moisture issues in your home, like leaky pipes or faucets, go untreated for too long.

Make sure you seal any cracks, crevices, or gaps in the foundation of your house.

Get rid of damaged wood that may attract carpenter ants.
Proper ant prevention is important because once they've made it inside, ants can be challenging to get out. Some ant species can have colonies that grow into the thousands, and by that point, it's almost impossible for homeowners to get rid of the infestation on their own.
How To Handle An Ant Infestation In Phoenix, Arizona
Although the tips above are great for prevention, they may not be able to eliminate an infestation that's already active in your home. With active infestations, the best solution is to leave it up to the professionals – like those of us at Overson Pest Control.
Not only can we identify what ant species are plaguing your home (and the damage they've done), but we'll also give these unwanted guests a permanent eviction notice. If you're noticing one too many ants around your Phoenix home, you don't want to wait – call us at Overson Pest Control today to learn more about our ant control program or to request your free, no-obligation quote for our services.