Professional Pest Control For Guadalupe, AZ Properties
Guadalupe is where everyone knows everyone, and it's easy to feel connected with the community. But when dealing with a pest infestation in your home or business, it's easy to feel alone and powerless. However, this doesn't have to be the case when you have reliable pest experts on your side.
For Maricopa County pest control, you can count on Overson Pest Control. We proudly provide pest control for residential and commercial properties in the area, so keep reading to learn more.
Home Pest Control In Guadalupe, AZ
When pest infestations happen on residential properties, they create unsafe environments, possibly spreading diseases and parasites. Pests can also cause damage to your home and lead to unexpected expenses. But don't stress; Overson Pest Control provides local residential pest control that can help remove infestations quickly and effectively and prevent future ones.
When you contact Overson Pest Control, we provide a free estimate over the phone to get you started with the pest control services you need for your home. Then we will implement treatments on the exterior of your home, with odorless interior treatments as necessary. Plus, we will de-web and place ant baits.
After your initial treatment, we will follow up to ensure your pest problem is taken care of, and if there is still an issue, we will re-service free of charge. Aside from our general pest control services, we offer the following specialty treatments:
Bee control
Rodent control
Scorpion control
Termite control
Call us today to learn more about the pest solutions our Overson Pest Control team can provide you in Guadalupe.
How Dangerous Are The Scorpions In Guadalupe?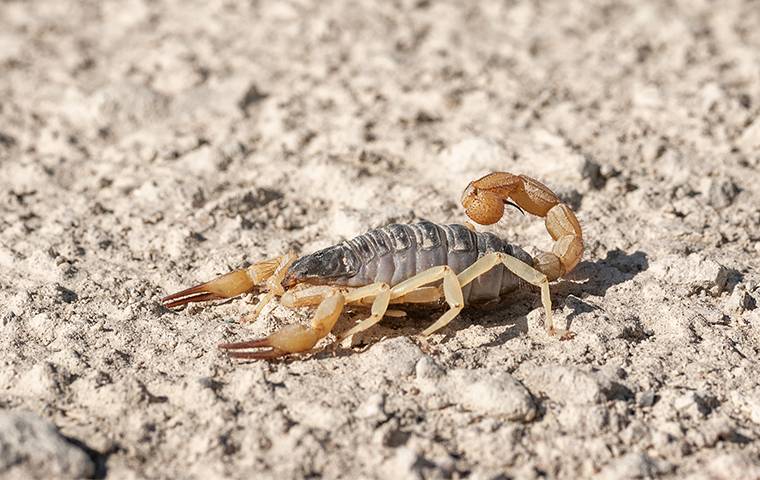 If you have lived in Arizona for any time, you are likely familiar with scorpions through first-hand encounters with this pest. However, people often assume all scorpions are dangerous due to their threatening appearance, which includes two pincers and a curved tail-like appendage that ends in a stinger and contains venom.
While it is true that all scorpions have the three traits listed above, almost all species in our area are not considered dangerous to people. But the Arizona bark scorpion does pose a threat to people, especially young children, older people, and those with a weak immune system. Still, anyone can experience an adverse reaction to a scorpion sting from any species if they are allergic to their venom.
Remember, most scorpions aren't aggressive and will usually leave you alone if you leave them alone. But if you are experiencing this pest in your home, don't hesitate to get professional scorpion control.
Overson Pest Control can assist you with scorpions and other pests on your Guadalupe property, so call us today to learn how.
Best Pest Control For Ants Near Guadalupe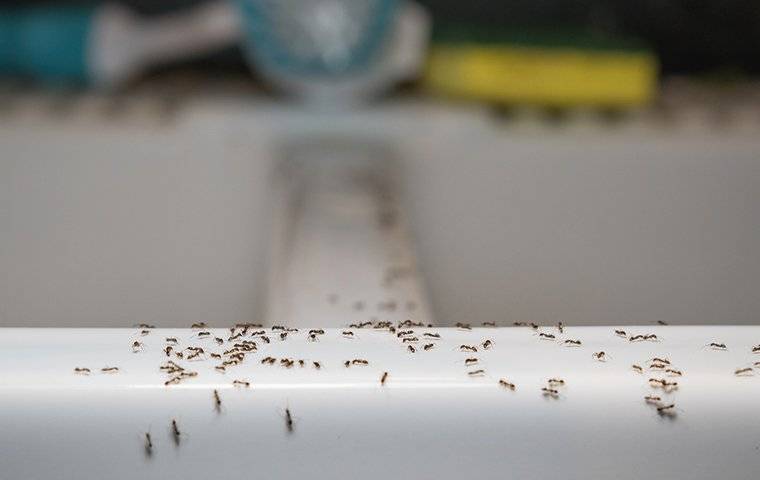 Ants are one of the most common home-invading pests, and while most ant species aren't dangerous to people, they are still annoying nuisances that cause problems.
Ants are social insects, which means they live in large groups called colonies and rely on individuals to perform an essential role. But when ants infest homes, their large numbers can become overwhelming, making it even more challenging to eliminate them.
People often turn to store-bought products and DIY pest control methods to deal with ant problems. While these practices can provide some results, they are usually short-lived and regularly lead to worse re-infestations. Handling an ant infestation alone will leave you spending more time and money than necessary. The best way to take care of an ant infestation is by working with pest professionals.
You can get ant control in Guadalupe from our experts at Overson Pest Control. Call us today to learn about our services and how you can get started.
Commercial Pest Control In Guadalupe, AZ
Pest infestations on your commercial property can impede daily operations and lead to many safety and health concerns that can leave employees and customers unhappy with your business. To keep this from happening to Guadalupe businesses, Overson Pest Control offers commercial pest control that you can rely on.
Our commercial pest control process starts with an inspection to determine what pest threats are present and what areas are of concern. After the inspection, we will apply treatments that are right for your business, eliminating the active pests and preventing future ones from infesting.
Every pest infestation is different and unpredictable. So even with professional services, pests won't go away overnight. After we treat your commercial property, we follow up to assess if further action is needed. If pests are still active, we re-apply treatment free of charge until your business is pest-free.
The facilities we service include apartment complexes, bars, restaurants, industrial businesses, office buildings, shopping malls, and warehouses.
Call Overson Pest Control today to start the commercial pest treatments.